The Ticket Watch™ System is Ideal for the Harsh Conditions of Construction Management
The Ticket Watch™ System is Ideal for the Harsh Conditions of Construction Management Services include the tracking and reporting of material movement, ie: dirt, sand, and clay for general contractors, subcontractors, public and private sector businesses, and government agencies.
Construction management companies benefit from our electronic ticketing system because it offers:
Accurate electronic load tracking from collection to disposal
Real-time reporting via internet of loads, drivers, commodities, agents
Driver logistic data management
Integration with accounting software to ensure expedient and accurate billing
GIS and Digital Photo capability
Rugged equipment that withstands the elements and rough handling
Learn More About Fleet Management Software for Construction Management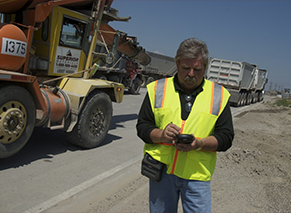 ---
Barcoding Systems Provide Easy Tracking for Hazardous Materials Handling
Ticket Watch™ provides a platform to enter and store required information relative to Hazardous Material handling storage and management.
The implementation of field ready barcodes applied directly to hazardous storage units provides the following:
Proper handling assurance – Requires signature authorization and full data before transaction can be completed and authorized
GPS coordinates- Where and when the material is stored and permanent validation through barcode identification
Special handling instructions-Instructions for handling material can be provided at time of initial material entry ensuring proper handling procedures are adhered to
Implementation of exception handling processes
Learn More About Electronic Ticketing and Hauling Software for Hazardous Materials
---
Emergency and Disaster Monitoring Services Work Even During Power Outages
The Ticket Watch™ monitoring systems inspect debris contractor operations to ensure FEMA eligibility and accurate debris load removal.
Our electronic barcoding system allows disaster cleanup companies an efficient way to:
Monitor debris contractors to ensure compliance with contracts
Inspect and validate loads and perform load surveying at loading sites and dumping sites
Perform data ticket entry
Monitor load metrics
Document removed debris to ensure eligibility
Prepare project worksheets
Coordinate and assemble all data into approved documentation for clients and FEMA
Learn More About Barcoding Systems for Disaster Debris Clean Up Hauling